Making The Move
the first steps in the home buying process are:

Deciding when you want to make your move

Considering how much money you would like to spend

Thinking about the type of home you would like

Deciding where you would like to live
The next step is finding out how much loan you can qualify for and deciding the type of financing that will work best for you.
If you're thinking about it, you will want to speak with a lender about receiving pre-qualification. If you choose to become pre-qualified, the lender will determine how much you can borrow based on the financial information you provide to the lender.
Pre-qualification is useful for making preliminary decisions about how much home you can afford but does not assess your creditworthiness.
You will need to fill out a loan application and go through the lender's loan approval process at a later date. When you decide to buy a home, you will want to become pre-approved for a loan prior to beginning your home search.
Buying Vs. Renting
The Advantages of Buying Include:

Smart Investment
When you invest in a home, it offers the possibility for appreciation in value. The equity becomes yours when you're still paying off your mortgage. You even get to live in it while your investment matures.

Tax Advantages
Since both mortgage interest and property taxes are tax-deductible, homeownership can save you significant amounts of money every year.

Planned Housing Costs
You decide how much you spend on your home, including repairs and improvements. Unlike renters, homeowners with a fixed-rate loan can lock in their monthly housing costs.

Improvements to Your Taste
You can choose which improvements to make with your own property. You don't need permission from a landlord to add a deck, remodel a kitchen or paint a room.
How Much Can You Afford?
unsure about the financial aspects of buying a home?
Most first-time buyers have many questions swirling in your head. The most common are, "How much can I afford?" and "Do I need a large down payment?"
Your home price range will be determined by your income, credit history, the cash you have for a down payment and closing costs and your debt. How much you earn compared to how much you owe will likely determine how much the bank allows you to borrow.
The financial rule of thumb is: your total monthly debt service, which will include your monthly mortgage, shouldn't be more than about 36 percent of your gross monthly income. Most experts say that your monthly housing expense, including taxes and insurance, should not exceed about 28 percent of your gross monthly income.
Naturally, every situation is different, and each lender has different rules about working with buyers. A number of choices within your control can affect your monthly payment as well. For example,
you might choose an adjustable-rate loan, which has a lower initial payment than a fixed rate program. Similarly, a larger down payment may lower your monthly payment.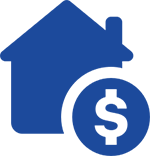 What's In Your Monthly Mortgage Payment?
Your Mortgage Payment Includes:

Principal
Principal is the money you borrowed to purchase the home.

Interest
Interest is the cost of borrowing money.

Taxes
Taxes are paid by homeowners to local governments, and are usually a percentage of the assessed property value.

Insurance
Insurance helps protect against financial loss from fire, natural disasters or other hazards. Most lenders require you to have a homeowner's insurance policy on your home because it will help protect their investment as well as yours.
This mix of charges in your mortgage payment is often abbreviated at PITI (principal, interest, taxes and insurance). Sometimes additional fees, such as homeowners association dues are also included.
Remember, many loan quotes will only include your principal and interest. You'll also need to factor in the taxes and insurance to calculate your total monthly mortgage payment.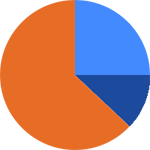 Tips for First-Time Buyers

Recent Sales
Find out if the market is slow and what homes have been selling for.

Homes Now For Sale
What homes are listed in the area, and are they listed above past sales? This will give you a good idea of the area's overall market value.

Home Appreciation
Historical data on sales gives the best indicator of a neighborhood's potential. Are homes appreciating at 3%, 5%, 10% or higher every year?

Schools
School scores and district boundaries are very important to research before moving into a neighborhood. The closest school is not always in your district, and school scores reveal if a neighborhood is invested in the school's success.

Crime
Get the hard facts about any problems in the neighborhood — don't depend on anecdotal information.

Demographics & Growth
Find out how the area is growing and changing.

Community
Learn about neighborhood features, such as public schools, shopping areas, parks, commuting options and more.
Buying a home is an investment in the neighborhood as well as the house. In fact, the character and amenities of the neighborhood
may be as important to the property value as the house itself. No matter what kind of neighborhood you're looking for, it's important to know its history and future when you decide to buy.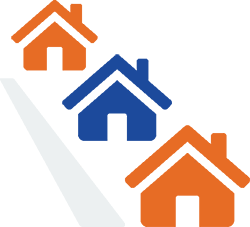 Down Payments
What's Required & How Much Should I Save?
An important aspect of getting a home loan is saving money for your down payment. You have many choices to make your home more affordable to you.
Lenders used to require a down payment of at least 20 percent of the home's price. These days, however, many lenders offer flexible home loan programs allowing you to put very little down — three percent or less of the home price. For some buyers it's possible to buy a home with no down payment at all, or to receive help from local, down- payment assistance programs.
If you decide to make a down payment less than 20 percent, your lender may require Private Mortgage Insurance (PMI), which protects the lender in case you cannot repay the mortgage. Talk with your mortgage professional to find out the smartest deal for you.
You'll also need to pay for closing costs, which are costs associated with initiating a loan. These can include loan origination fees, discount points, attorney fees, recording fees and pre-paids. They often will total three to five percent of the price of the home.
Mortgage Pre-approval
Do I need to get pre-approved?
Pre-approval can be a very valuable step toward purchasing a home. Many home buyers get pre-qualified for a home loan early on and then become pre-approved before beginning a serious home search. By completing your mortgage application prior to choosing a home, you can get a pre-approval letter stating how much home you can afford.
Your pre-approval letter lets you know exactly how much you can spend, and it shows home sellers and real estate agents that you're serious about buying a home. This may give you leverage in the negotiation process. Many sellers actually prefer to work with pre-approved buyers, especially in hot real estate markets.
Understanding The Market
It's a question we're asked a lot at Brandt Real Estate. Many factors determine if it's a good time for you to buy because the housing market varies over time.
Contact Brandt Real Estate today and our agents will be happy to discuss the very latest housing market trends with you.
If you have any real estate questions or need assistance in any way, please don't hesitate to email or call, as we are always happy to help.
INTERESTED IN BUYING? REQUEST A
PERSONALIZED HOME BUYING CONSULTATION